Garlic Yucca Mash
Recipe type: Side
Cuisine: Vegan
Serves: 4
What you'll need: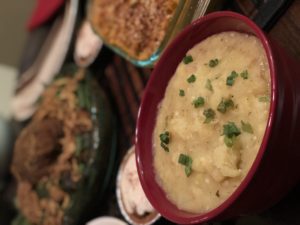 6 cups water
1 lb. yuca root, peeled and cut into chunks
1 1/2 tsp. adobo seasoning
2 Tbsp. olive oil
1/2 tsp. pink Himalayan salt
2 Tbsp. vegan butter
1/2 tsp. coarse black pepper
1/2 cup chopped yellow onion
3 cloves garlic, chopped
How to make it
In large pot, bring the water to a boil over medium-high heat.
Add the yuca and adobo and cook for about 20 minutes, or until completely tender.
Drain, but keep 0.5 cup of the water.
Transfer the yuca to a cutting board and carefully halve pieces lengthwise. Remove the stringy insides.
In a large bowl, mash the yuca add in the left over water as needed, 1 tablespoonful of olive oil, the pink Himalayan salt, vegan butter, and black pepper and mix to desired consistency.
Place in a serving bowl and cover with foil to keep warm.Use the remaining olive oil to sauté onions and garlic then mix into the mashed yucca.