Curry Baja Butternut Squash Soup
I discovered Butternut Squash seven years ago during a fast with my church. This recipe was my first real plant-based experiment.
It's creamy without needing dairy and with all of the cumin, curry, and turmeric it's a tummy pleasure. It's perfect for this time of year, especially if you live in a place that has dropped below 70 degrees. (Not our testimony here in Florida)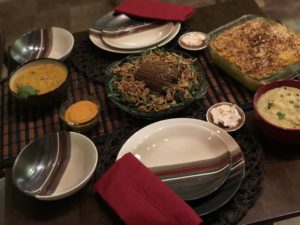 Recipe type: Soup, Side
Serves: 12
Macros:  3g Fat | 15g Carbs | 4g Protein
What you'll need:
2-3 Tbsp olive oil
2 shallots, thinly diced
2 cloves garlic, minced
2 cups diced potatoes, carrots, celery
6 cups butternut squash = 1 small butternut squash
1 Tbsp Himalayan Pink Salt
1 Tbsp Black Pepper
1 1/2 Tbsp curry, cumin, and turmeric powder (curry spices)
1/2 Cup raw cashews
2 cups  vegetable broth (I blanched lost of veggies, so I used some of that water – but store bought is cool)
For serving optional
Toasted pumpkin seeds
Creamy Chipotle Sauce
How to make it:
Roast your butternut squash with 1 Tbsp of olive oil season with salt and pepper. (Should take about 30 minutes.
Once your squash is ready, heat a large pot over medium heat.
Once hot, add oil, shallots, potatoes, carrots, celery, and garlic. Sauté for 2-5 minutes, stirring frequently.
Stir in 1 cup of broth add salt and pepper to taste then cover and cook for a few minutes, stirring occasionally.
In a blender add 1/2 cup of raw cashews and 1 cup of vegetable broth to make your "cashew milk", then set aside save 1/4 cup for your chipotle sauce.
Add your butternut squash and season with all of your curry spices. Stir to coat.
Use an immersion blender, or transfer soup to a blender, and purée on high until creamy and smooth. If using a blender, return soup back to the pot.
Pour in your cashew milk to thicken the soup and stir.
Taste and adjust seasonings, adding more curry spices or salt as needed. Continue cooking for a few more minutes over medium heat.
Serve as is or with garnishes of choice (options above). Store leftovers covered in the refrigerator for 3-4 days or in the freezer up to 1 month.
How to make Creamy Chipotle Sauce
1/4 cup  cashew milk
1/4 Chipotle Chilis in adobo sauce
1 clove of garlic
Juice of 1 lime
Salt to taste